INTERNATIONAL 4x4
MEETING CITTÀ di GRADISCA
-47
Days
-21
Hours
-5
Minutes
-42
Seconds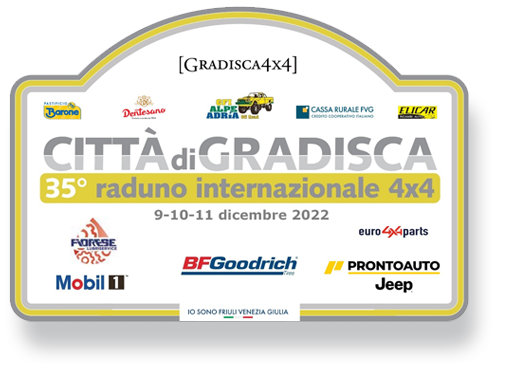 THE
INTERNATIONAL EVENT

FROM GUINNES OF RECORDS!

The international 4×4 meeting Città di Gradisca is an unbelievable off-road experience that is suitable for heterogeneous teams, families and veterans who all passionately want to spend a special off-road day on board of any four-wheel drive vehicle, whether it's a vintage or the latest model , fully equipped or SUV!
A memorable route of over 100 km off-road, using a traditional road-book awaits you!

THE 2022 EDITION
4th February 2023
THE INTERNATIONAL 4×4 MEETING
CITTÀ di GRADISCA


4 FEBRUARY 2023

ENROLLMENT CLOSING
In the heart of Friuli Venezia Giulia region, between the Julian Prealps and the Adriatic Sea, crossing hills, woods and vineyards, along riverbeds and streams, visiting Roman archaeological and historical sites of the First World War; immersed in Central European culture to taste products and dishes born from the crossing of traditions of different countries, sipping excellent wines.

Homepage GFI 4×4